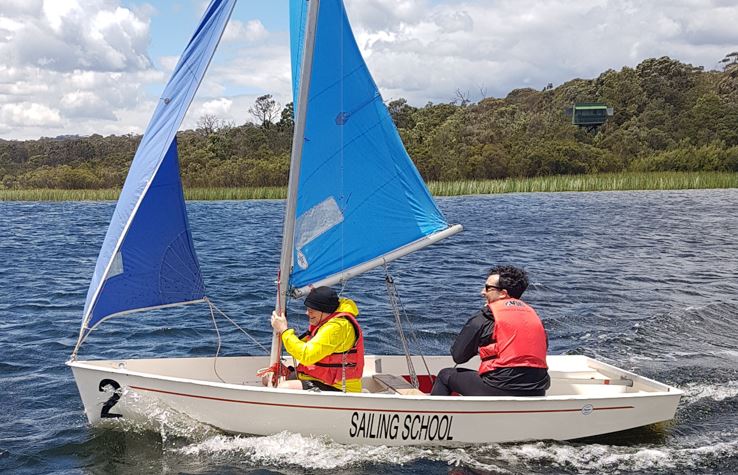 Learn to Sail & Race a Dinghy with us!
The Sailing School and our Instructors are fully accredited by Australian Sailing.
Sailing Sampler Course
Experience sailing and racing in our Sailing Sampler course, this program is designed to provide participants with an enticing glimpse into the world of competitive sailing. Tailored for beginners, including teenagers (>13 years) and adults, you'll be immersed in a secure and encouraging environment.
Led by experienced instructors who specialize in dinghy racing, the Sailing Sampler Course is an opportunity to not only learn the basics of sailing but also to feel the excitement of participating in a short, friendly race on the water. Our instructors, who have a wealth of racing experience, will guide you through the entire race process.
During the 2-hour session, held on a Saturday morning, participants will engage in a series of activities designed to introduce them to small sailing boats, fundamental sailing concepts, and the dynamics of racing. You'll have the chance to practice manoeuvring a dinghy, understanding wind patterns, and optimizing your boat's speed.
As part of the experience, our instructors will take participants out on the lake for a short race, allowing you to put your newly acquired skills to the test in a friendly racing environment.
Whether you're new to sailing or looking to combine your passion for sailing with the excitement of racing, the Sailing Sampler Race is the perfect introduction. It's a wonderful opportunity to learn, compete, and connect with fellow sailing enthusiasts, all while under the expert guidance of our dedicated instructors.
Don't miss out on this unique opportunity to dip your toes into the world of sailing and racing. Join us on a Saturday morning to experience the thrill firsthand!
Cost: $20 per person
At the completion of the Sailing Sampler course you have the option of enrolling in the Start Sailing 1 & 2 course to further develop your skills.
Course participants must be confident in the water and able to swim 50 mtr's and have a basic level of fitness & mobility (ability to perform 20 squats, 20 star jumps & running on the spot for 30 seconds). 
Start Sailing 1 & 2 Course
This course focuses on learning the fundamental skills of small boat sailing. The goal is to equip you in sailing a dinghy on your own, or with a crew member, enabling you to participate in regular club sailing events.
Course duration: 6 x Saturday mornings (9am-12pm)
Cost: $240 per person (adult) / $210 youth (13-18 yrs) / $110 youth (13-18 yrs) if accompanied by an adult.
Topics covered
• Introduction to Basic Safety Afloat
• Boat & Sailing Orientation
• Introduction to Rigging the Boat
• Man Overboard & Towing Drills
• Deep Water Capsize Recovery Drill
• Sailing a triangle and windward/leeward course
• Boat Speed Control
• Leaving & Returning to the shore
• Basic Rights of Way
Fair use of club boats for Saturday afternoon club racing is permitted for a period of time upon completion of Start Sailing 1 & 2 (pending availability).
How is your training recognised?
Upon successful completion of the Start Sailing 1 & 2 course you will receive a certificate issued by Australian Sailing. 
What equipment will you need?
Lysterfield Sailing Club aims to make sailing as enjoyable and accessible as possible to everyone who has an interest.
All you need is yourself and some common clothing types to help you enjoy your experience.
As weather conditions may vary from cold to hot, sunny to wet, students should bring:
• Towel
• Wetsuit (for cooler months, depending on water temperature)
• Shorts 
• Polyester shirts and tops recommended 
• Windproof / Waterproof Jacket
• Old sneakers / Wetsuit Boots
• Sun Hat / Sunglasses (preferably with straps)
• Water bottle
PFD's – Personal Floatation Devices (sometimes referred to as lifejackets or buoyancy vests) are supplied.
Where do you go?
Lysterfield Lake Park is situated at google maps entry. Entry is via Horswood Road. The sailing school meets on the lake foreshore directly West of the entry gate in the boating area as signed. Parking for cars and trailers is adjacent to our storage facility.
What about the weather?
We can sail on the lake at most times, but should the weather prevent practical instruction then we conduct an appropriate session in the clubhouse. If the weather prevents sufficient practical sessions, then substitute days are usually arranged, in order to complete the course.
How do you book?
Courses are popular, please contact Jarrod Beaumont at the club by email lysterfieldsc@gmail.com or via our Contact Us page to enquire about availability, dates and to register your interest.
Feedback from our students:
"I recently had the opportunity to complete a sailing course with the Lysterfield Sailing Club. The Instructors were nothing short of amazing. They were friendly, approachable and professional. From day one, I felt like I was in good hands. Their knowledge, passion for sailing, and commitment to helping us learn was evident in every aspect of the course. They went above and beyond to ensure that we felt comfortable and confident on the water. I cannot recommend Lysterfield Lake Sailing School enough to anyone wishing to learn how to sail. It's not just a sailing school; it's an opportunity to meet new people who share your passion and to immerse yourself in the great outdoors. I wholeheartedly encourage you to join Lysterfield Lake Sailing School. You won't regret it!" KS – October 2023
"After thinking about sailing for many years I finally decided to try it and enrolled in the learn to sail courses at Lysterfield Sailing Club, I was not disappointed. The Instructors and other members of the club were great. Everyone was supportive, encouraging and shared their expertise and knowledge freely and patiently. I can absolutely recommend the club and their learn to sail courses for anyone wanting to try their hand at sailing in a friendly, fun and safe environment. I'd like to thank the Instructors and everyone who assisted, for their time, knowledge and patience over the last six weeks, it was great fun." SN – October 2023  
"I am truly grateful for the comprehensive training I received at Lysterfield Sailing Club. The new skills and knowledge I have gained will stay with me as I continue my sailing journey. Thank you very much for providing me such a memorable experience and making me more confident on the water". GU – October 2023
"Thank you very much to all the volunteer staff for their time, expertise and patience. Without exception you were all very encouraging and empowering. The course was really well structured and allowed me to build upon my skills week on week. I built my confidence throughout the course and safely learnt through trial and error….I really enjoyed it'! DO – October 2023 
"I was initially nervous and reluctant, but our sessions quickly became the highlight of my week. The Instructors running the course are incredibly friendly and supportive, always making sure we were comfortable and safe. I've had a great time and we are now club members and plan to buy our own boat. I really can't recommend it enough". JH – October 2023
"I have been greatly impressed with the standards set at Lysterfield Sailing club for beginner sailors like myself. I'm staying on as a new member with new friends and now have the ability to know what I can do safely". DW – October 2023
"Very easy going and welcoming group, learned alot in the six-week course. Lysterfield is a great place to safely learn to sail". SW – October 2023
"Great fun, hugely skilled and informative Instructors who help understand the sailing skills. I loved it and recommend you try it". RG – March 2023
"The course was delivered perfectly – concise enough to not be overwhelming but in plenty of detail to still empower the most nervous of participants. This grounded, safe, supportive and lighthearted environment was crucial to me in finding somewhere to learn. If you are toying with the idea of sailing give it a go, Lysterfield is the best place to do it. You'll come away with so much knowledge in a short amount of time – all thanks to the spectacular Instructors and kind community at Lysterfield". AH – April 2023
 "Fantastic course. A fantastic mix of theory and practical. After 6 weeks I now feel very confident to now rig the boat and sail. Excellent Instructors, friendly, patient and really approachable. I would highly recommend this course to anyone who is looking to learn". JC – March 2023
"So grateful for the welcoming and helpful nature of the Instructors who kindly volunteer their time and expertise. It's a really great place to get familiar (and then inspired) by the fundamentals and opportunities. Thanks to Jarrod, Paula and John". PD – March 2023
"Fantastic course – fantastic trainers. Fun, friendly and a safe way to learn to sail….inspiring"! AH – March 2023
"Highly recommend this course for beginners, fun and challenging! Warm friendly environment and great Instructors". SM – March 2023
"I highly recommend both the Intro and the 6-week course. The instructors were super approachable and knowledgeable. I went into the courses a complete novice but feel a lot more comfortable now either sailing alone or with a partner. Everyone at Lysterfield Sailing Club was really friendly and I was never pushed or pressured into anything. If you're looking for an enjoyable experience, give sailing here a go"! John L – Dec 2022
"Had a fantastic time from day one, everyone was very welcoming and knew what to teach us. Highly recommend the course to anyone wanting to give sailing a go". Josh H – Dec 2022
"Super fun, the course teaches you everything you need to know about sailing. You get plenty of hands-on experience and makes a perfect hobby for a group of friends to do together". Bentley – Dec 2022
"I would like to thank Lysterfield Sailing Club for the wonderful opportunity to learn to sail. The instructors were very knowledgeable, patient and lots of fun. The course was excellent, and I can't wait to spend more time on the water." Megan C – Dec 2022
"They tell you during the chaos of the first day that by the end of the six weeks you will be sailing on your own with confidence. You won't believe them but on the final day you will realise they were right. Very well run and a lot of fun". Keith L – Dec 2022
"Enjoyable 6-week course, very informative and well instructed. Sailing from first day which boosts confidence and enjoyment. Able to sail solo in the last week which prepares for future sailing". Melinda T – Dec 2022
"An excellent course! All aspects of sailing covered in detail. Perfect for the beginner. Great communication by all instructors and all equipment supplied. The club has a very friendly vibe, no pressure, heaps of encouragement and support with safety paramount. I would recommend this course to anyone young or old". Craig M
"Fantastic course. Great culture amongst the club which made it very enjoyable and lots of fun.  Instructors are very easy to follow and down to earth. It's amazing to think that after just 6 weeks my husband and I can now sail! Very affordable to learn at Lysterfield Sailing Club". Chris & Lyn B
"I have gone from zero to being able to helm in 6 weeks! Great caring instructors with amazing experience. Fantastic boats too. I'd strongly recommend anyone keen to sail to come along and get the best value for money experience available". Alison S
I appreciate the support, enthusiasm and guidance provided by the Sailing School team Jarrod, Paula and John. Thank you to Lysterfield Sailing Club for welcoming us and always being there to support newcomers. It's a great culture to be part of. This was an opportunity for myself and Craig to enjoy learning together and I hope we will continue to enjoy all that the Lysterfield Sailing Club has to offer". Sue M
"I would definitely recommend Lysterfield Sailing Club – they are really good people, and you learn alot. The complete crew are so helpful and knowledgeable". Shiv S
"Excellent course. Very experienced and patient instructors. Right amount of time to learn and lots of fun"! Chong  
"I knew nothing about sailing when I started and grew in confidence with the gentle encouragement and patience of the experienced sailors who taught in an easy to understand and practical/hands on way. I would recommend this course and club to anyone – it is so much fun and inclusive."  Anne A
"Lysterfield Sailing Club provided a supportive, encouraging and low-pressure environment for my wife and I to go from no experience to confidently and safely sailing together. A great course and club."          Jarrod Z
"The sailing courses are a brilliant introduction into sailing. The instructors were very friendly, knowledgeable and helpful." Chris T
"Lysterfield Sailing School provided a friendly, relaxed atmosphere for me as a complete beginner to learn to sail, with heaps of support from the different instructors. A great environment in which to learn! I'm thrilled to continue sailing with the club and to keep learning more from other club members as I go" Jacqui Z
"Great fun, easy going and exciting"! Kate C
"A unique and hands on approach to learning how to sail where you actually get in the boat and do it". Josh D