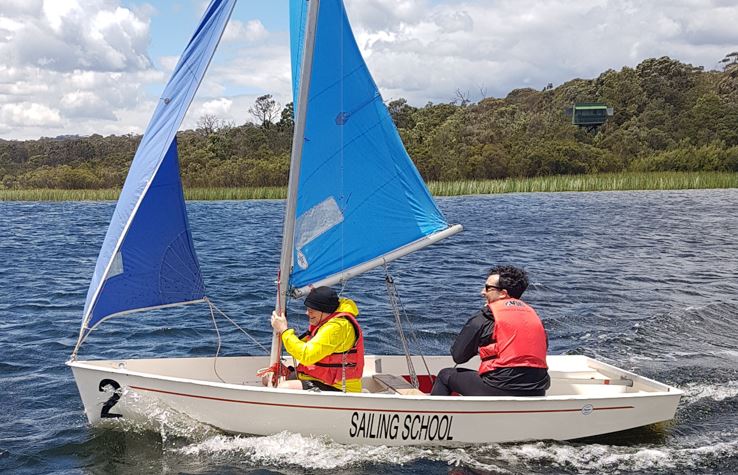 Learn to Sail a Dinghy with us!
The Sailing School and our Instructors are fully accredited by Australian Sailing.
Introduction To Sailing Course
Perfect for those testing the waters. This is a short introduction to sailing and is aimed at beginner level for teenagers (>13 yrs) & adults in a safe and supportive environment. The goal of this course is to expose participants to small boats and introduce some basic sailing concepts.
Course duration: half day (4 hrs)
Cost: $50 per person
At the completion of the Introduction To Sailing course you have the option of enrolling in the Start Sailing 1 & 2 course to further develop your skills.
Course participants must be confident in the water and able to swim 50 mtr's and have a basic level of fitness & mobility. 
Start Sailing 1 & 2 Course
This course focuses on learning the fundamental skills of small boat sailing. The goal is to equip you in sailing a dinghy on your own, or with a crew member, enabling you to participate in regular club sailing events.
Course duration: 6 x Saturday mornings (9am-12pm)
Cost: $240 per person (adult) / $210 youth (13-18 yrs) / $110 youth (13-18 yrs) if accompanied by an adult.
Topics covered
• Introduction to Basic Safety Afloat
• Boat & Sailing Orientation
• Introduction to Rigging the Boat
• Man Over Board & Towing Drills
• Deep Water Capsize Recovery Drill
• Sailing a triangle and windward/leeward course
• Boat Speed Control
• Leaving & Returning to the shore
• Basic Rights of Way
Fair use of club boats for Saturday afternoon club racing is permitted for a period of time upon completion of Start Sailing 1 & 2 (pending availability).
How is your training recognised?
Upon successful completion of the Start Sailing 1 & 2 course you will receive a certificate issued by Australian Sailing. 
What equipment will you need?
Lysterfield Sailing Club aims to make sailing as enjoyable and accessible as possible to everyone who has an interest.
All you need is yourself and some common clothing types to help you enjoy your experience.
As weather conditions may vary from cold to hot, sunny to wet, students should bring:
• Towel
• Wetsuit (for cooler months, depending on water temperature)
• Shorts 
• Polyester shirts and tops recommended 
• Windproof / Waterproof Jacket
• Old sneakers / Wetsuit Boots
• Sun Hat / Sunglasses (preferably with straps)
• Water bottle
PFD's – Personal Floatation Devices (sometimes referred to as life-jackets or buoyancy vests) are supplied.
Where do you go?
Lysterfield Lake Park is situated at google maps entry. Entry is via Horswood Road. The sailing school meets on the lake foreshore directly West of the entry gate in the boating area as signed. Parking for cars and trailers is adjacent to our storage facility.
What about the weather?
We can sail on the lake at most times but should the weather prevent practical instruction then we conduct an appropriate session in the clubhouse. If the weather prevents sufficient practical sessions then substitute days are usually arranged, in order to complete the course.
How do you book ?
Courses are popular, please contact Jarrod Beaumont at the club by email lysterfieldsc@gmail.com or via our Contact Us page to enquire about availability and to register your interest.
Feedback from recent students:
"An excellent course! All aspects of sailing covered in detail. Perfect for the beginner. Great communication by all instructors and all equipment supplied. The club has a very friendly vibe, no pressure, heaps of encouragement and support with safety paramount. I would recommend this course to anyone young or old". Craig M
"Fantastic course. Great culture amongst the club which made it very enjoyable and lots of fun.  Instructors are very easy to follow and down to earth. It's amazing to think that after just 6 weeks my husband and I can now sail! Very affordable to learn at Lysterfield Sailing Club". Chris & Lyn B
I have gone from zero to being able to helm in 6 weeks! Great caring instructors with amazing experience. Fantastic boats too. I'd strongly recommend anyone keen to sail to come along and get the best value for money experience available". Alison S
I appreciate the support, enthusiasm and guidance provided by the Sailing School team Jarrod, Paula and John. Thankyou to Lysterfield Sailing Club for welcoming us and always being there to support new comers. It's a great culture to be part of. This was an opportunity for myself and Craig to enjoy learning together and I hope we will continue to enjoy all that the Lysterfield Sailing Club has to offer". Sue M
"I would definitely recommend Lysterfield Sailing Club – they are really good people and you learn alot. The complete crew are so helpful and knowledgeable". Shiv S
Excellent course. Very experienced and patient instructors. Right amount of time to learn and lots of fun"! Chong Y 
"I knew nothing about sailing when I started and  grew in confidence with the gentle encouragement and patience of the experienced sailors who taught in an easy to understand and practical/hands on way. I would recommend this course and club to anyone – it is so much fun and inclusive."  Anne A
"Lysterfield Sailing Club provided a supportive, encouraging and low pressure environment for my wife and I to go from no experience to confidently and safely sailing together. A great course and club."          Jarrod Z
"The sailing courses are a brilliant introduction into sailing. The instructors were very friendly, knowledgeable and helpful." Chris T
"Lysterfield Sailing School provided a friendly, relaxed atmosphere for me as a complete beginner to learn to sail, with heaps of support from the different instructors. A great environment in which to learn! I'm thrilled to continue sailing with the club and to keep learning more from other club members as I go" Jacqui Z
"Great fun, easy going and exciting"! Kate C
"A unique and hands on approach to learning how to sail where you actually get in the boat and do it". Josh D