Learn to Sail and Race a Dinghy or Catamaran with us!
L.S.C. Sailing School is an accredited Australian Sailing training scheme provider.
---
GET INTO SMALL BOAT SAILING!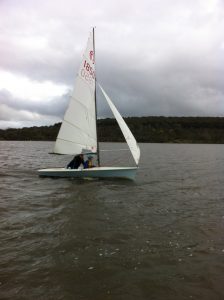 'Get into Small Boat Sailing' is designed to introduce people of all ages (>10 yrs) and sizes to the sport of sailing. Our goal is to assist everyone to develop their skills to a level where they can confidently enjoy participation in club sailing events.
If you are about to try sailing for the first time, or you just want to enjoy sailing every now and then, the 'Get into Small Boat Sailing' course Basic Skills 1 & 2 is for you.
What do you learn?
The focus is on mastery of basic and foundational skills and knowledge upon which the later advanced boat handling skills can be built.
We aim to have all students integrate into the sport at club level with relative ease and minimal frustration. Our accredited Sailing School teaches Basic Skills 1 & 2 of the Australian Sailing training schedule "Start Sailing".
Learn to Sail
• Introduction to Basic Safety Afloat
• Boat Orientation
• Introduction to Rigging the Boat
• Sailing Orientation
• Capsize Recovery Drill
• Sailing on a Beam Reach
• Boat Speed Control
• Leaving & Returning to the Launch Facility
• Sailing a Marked Course
• Basic Rights of Way
Learn to Sail – Start Sailing One
The course includes an introduction to fundamental boat handling skills and essential safety knowledge that will allow the participants the freedom of sailing small boats with guidance from an instructor or coach.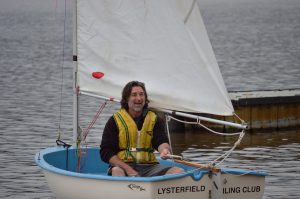 You will learn about:
Rigging the Boat
Sailing a Marked Course
Sailing to Windward
Sailing Downwind
Points of Sailing
Basic Rules of the water
Care of Equipment
Crew Recovery Drill
Coming Alongside
Start Sailing Two
Expands on the skill elements and performance criteria mentioned above.
Learn to Sail – Better Sailing

The course introduces the next level of skills and knowledge that will enable the successful participant to safely and competently sail a small boat in enclosed waters without guidance.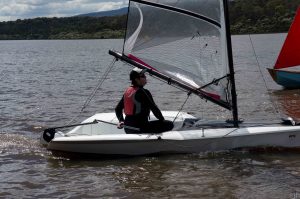 How is your training recognised?
Upon signing up for the Sailing School you will receive your own 'Get into Small Boat Sailing' logbook, issued by Australian Sailing along with your program welcome pack, in a waterproof document wallet.
Upon successful completion of the Sailing School your coach will complete the certification within your Log Book. Your qualification is recognised as a Registered Training Establishment endorsed qualification.
What equipment will you need?
Lysterfield Sailing Club aims to make sailing as accessible as possible to everyone who has an interest.
With that in mind, all you need is yourself and some common clothing types to help you enjoy your experience.
As weather conditions may vary from cold to hot, sunny to wet, students should bring:
• Towel
• Wetsuit (if available)
• Shorts (also ideal over wetsuit for protection)
• Polyester shirts and tops recommended (no cotton)
• Woollen Jumpers or thermal jumpers/jackets
• Windproof / Waterproof Jacket
• Old sneakers / Wetsuit Boots
• Sun Hat / Woollen Beanie / Sunglasses (preferably with straps)
• Sunscreen
PFD's – Personal Floatation Devices (sometimes referred to as life-jackets or buoyancy vests) are supplied.
Where do you go?
Lysterfield Lake Park is situated at (Melways Ref: 108 D1, google maps entry). Entry is via Horswood Drive. The sailing school meets on the lake foreshore directly West of the entry gate in the boating area as signed. Parking for cars and trailers is adjacent to our storage facility.
What about the weather?
We can sail on the lake at most times but should the weather prevent practical instruction then we conduct an appropriate session in the clubhouse. If the weather prevents sufficient practical sessions then substitute days are usually arranged, in order to complete the course.
How do you book ?
Contact Rob Sheers via email ( or use our contact page)

var front="lysterfieldsc";
var middle="gmail";
var back=".com";
var joiner = String.fromCharCode(64);
var addy=front+joiner+middle+back;
document.getElementById("liam").innerHTML=addy;

to find out next available course date, or use the contact page on this website.
General course duration is 6 weeks and is conducted on either Saturdays/Sundays.
Fair use of club boats for Saturday afternoon club racing is permitted for a period of time upon course completion (pending availability).
Sailing School Fees
1 JULY 2020 TO 30 JUNE 2021
| | |
| --- | --- |
| Senior | $240.00 |
|   |   |
| Youth under 18 years and / or full time Student under 25 years as at 1 July 2020 | $210.00 |
|   |   |
| Youth under 18 years and / or full time Student under 25 years as at 1 July 2020 accompanied by a participating Senior | $110.00 |