Get to know a bit more about our members, what they sail and what they are interested in.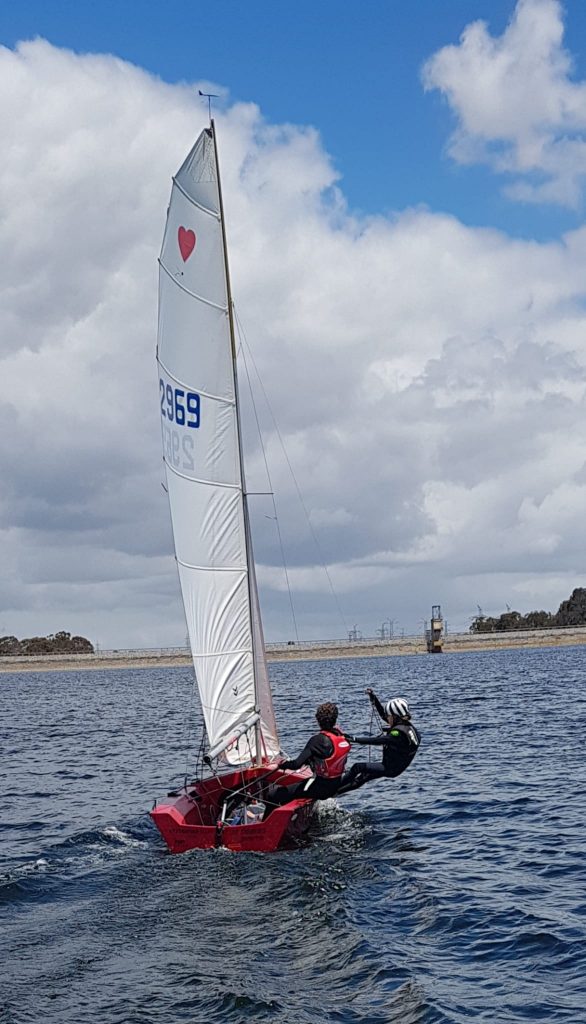 What made you choose this particular class of boat?
This particular boat – combination of mid-life crisis (I'm going to buy a flashy red boat before I'm too much older) and wanting to show the kids that sailing can be heaps of fun. But Cherubs in general have been on the top of my boat wish list since a teenager. First designed in 1951 by John Spencer they were revolutionary in being light, cheap and high performance, based on kit ply construction. They're a development class which means the designs constantly evolve within a rule structure that stops the boats from becoming too hard to handle or too expensive to make. Some of our most well-known sailors have sailed and designed Cherubs, including the Bethwaites (Taser, 29er, 49er), Iain Murray (18ft skiffs, Australia II), Farr (yacht design) etc. (I have a 1980s Murray designed hull siting in the yard right now that I really should take to the tip…) Unfortunately there aren't many Cherubs still sailing in Victoria, but NSW and WA have strong fleets, and SA and Qld some too. Its refreshing that current fleets have a 50:50 gender split. There is a real resurgence going on in NZ too, driven by parent and kid combos and a new kit available for home builds.
Have you owned any other boats and what were they?
Growing up we had quite a few boats and sailing boats in particular. I'm originally from Canberra but we had a block of land on Lake Macquarie (NSW) on the waterfront where we'd go for holidays. It was pretty basic (pit toilet, kerosene heater/cooking) but had an asbestos shed on it which gradually filled up with boats. Dad had built a Mirror before I was born but didn't like the performance and sold it to my cousin (who soon sold that and built his own Cherub, before moving to a Javelin, 505 and 49er). Instead Dad bought a swinger, which was a 11ft boat designed by Bob Miller (later changed name to Ben Lexcen – Australia II designer). It was a great boat with jib, and main, with optional spinnaker and trapeze (hence 'swinger' – very 1970s). We spent lots of time sailing that as a family. Later I used to sail it solo – it was a bit heavy by then but in a breeze would really move on a reach with the trapeze. We also had a Seasprite (?), Scow Moth, Laser, Tasmanian Tiger (a larger laser rip-off), NS14 and a few Windsurfers. I also did up a very old Gwen 12 for a school project.
What got you interested in sailing?
Aside from sailing with family I started crewing on some competitive NS14s from early high school. At that time NS14s had really large fleets across NSW and the racing was very exciting. I convinced Dad to buy an old NS14 and started skippering this with various school mates. Went from the front of the fleet to the back, but also took it to various class and school titles across NSW, banking lots of memories both on and off the water. I've never owned a really competitive boat myself, but my experience is that it doesn't seem to hurt the fun factor. Ended up skippering a new Cherub owned by a school mate for a couple of years and we did OK at the Nationals in 1989, but always felt there was unfinished business. Didn't own a boat again for 30yrs.
What do you love about Sailing at Lysterfield?
Sailing a Cherub anywhere can be quite challenging (so many ropes, so little time to untangle them…) and our Cherub is old so things can break etc. So my first priority was to find somewhere reasonably safe with a shore within swimming distance. But now that we're keeping it upright (well, more so than Jarrod anyway…) and the boat is a bit more reliable I'm really enjoying the sense of community in the club, and that everyone is willing to have a laugh about what they're doing. Also I like (on good days) the challenge of lake sailing, although trapezing and kite work can be challenging with the wild wind swings.
How long have you had your Cherub?
3-4 years, can't actually remember. But I do know that there's a lot of team work in sailing, particularly a Cherub, and that my son Max and I are getting better at it. Hopefully, before I'm too much older, I we can swap roles and I can have a go at crewing – I want that reach on trapeze with the kite up and Max smiling, preferably overtaking Herman….
When you're not sailing, what do you like to do with your time?
Anything outdoors with my kids and wife, like cycling or walking. Also tinkering in the garage. But otherwise its mainly work…..
If you'd like to join the Harvie family sailing at Lysterfield, we'd love to have you and can cater for any Dinghy up to 16ft and Cat up to 14.5ft. Get in touch if you'd like to be part of it!